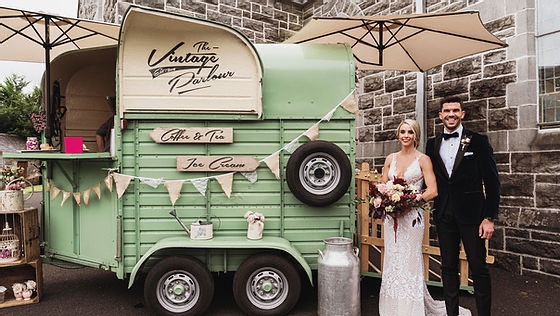 The Vintage Parlour
The Vintage Parlour started off as a very small idea of been able to go to festivals and shows around the country. It rapidly grew to something we only dreamt of and became an unexpected business which never feels like a job. The enjoyment and satisfaction of hearing amazing reviews makes it so satisfying. So if you are looking for that quirky idea to impress your clients or guests then THE VINTAGE PARLOUR is your answer. Perfectly functional and mobile - our rice horse box is available for weddings, corporate and private functions, promotional work, filming...anything really!!
We don't horse around when it comes to supplying friendly personal service, high quality coffee, homemade scooped ice-cream or anything your taste buds desire!
Based in Kilbeggan, Co.Westmeath we are in an ideal location to gallop to the four corners of the country - no venue too small - our dream is to invite you to share in our adventure and make your event memorable and above all tasteful.
Contact Listings Owner Form